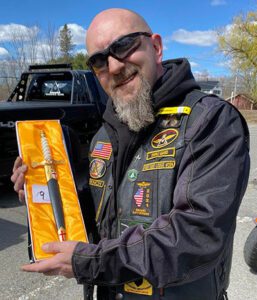 Some custom orders aren't the ones we like to receive, but without hesitation we will do everything in our power to fulfill.
Don recently passed away due to a tragic accident that rocked many people's lives and will be missed dearly.
Corey worked together with the family to get some custom patches made up for all his brothers as well as some funeral bands – it was our honor to be able to create this and make it all happen for them.
Don was an amazing man who touched many lives, and we had the pleasure of working with him on numerous occasions for custom apparel. He left us way to early, it doesn't seem fair. We all know that he will be waiting there for each of us when our time is here to give us the widows sons handshake that pulls you into a big hug. He will be there waiting and smiling. In the meantime, know that he will be watching over us all with that big smile. SMIB Brother! You will be missed more than words could ever explain.
We here at Evolution Graphix want to thank Don for everything he has done for us and send our condolences and love to all his family and friends in this difficult time.
If anyone is interested in a patch, we will have them up on our website shortly!
FROM TEMPLE GUARD
"We have designed this patch for our fallen brother Don Charette. It's the family's wishes and the wishes of Temple Guard that this be the only patch made for our brother. We thank all the brothers and sisters for their support through this tragedy. SMIB – RIP Brother Don Charette"
Corey "Bruin" Hill
President Temple Guard"
PATCHES WILL BE AVAILABLE TO ANYONE BY JUST
CLICKING THIS LINK
. THE PRICE OF THE PATCH WILL BE $10 EACH. $5 DOLLARS OF EACH PATCH PURCHASE WILL BE DONATED BACK TO TEMPLE GUARD FOR THEIR CHAPTERS RIDE CALLED THE JENNA/ WRENCH RIDE. WE WOULD LIKE TO THANK ALL FOR PURCHASING THE PATCHES AND HELPING SUPPORT THIS RIDE. IT WHAT WIDOWS SONS DO…. ITS WHAT WE DO…..ITS WHAT DON "WRENCH" CHARETTE LIVED TO DO!